Major Transformation in this Mid-Century Modern Home
When our clients came to HartmanBaldwin they sought a design/build remodel inspired by the Mid-Century Modern style while addressing their needs as they move through different life stages. Every room in the interior was meticulously remodeled from the kitchen and living spaces to the bedrooms and ensuite bathrooms. But the transformation didn't stop there, a comprehensive redesign of the property's grounds included upgraded hardscape, landscaping, garden beds, lighting, and water features.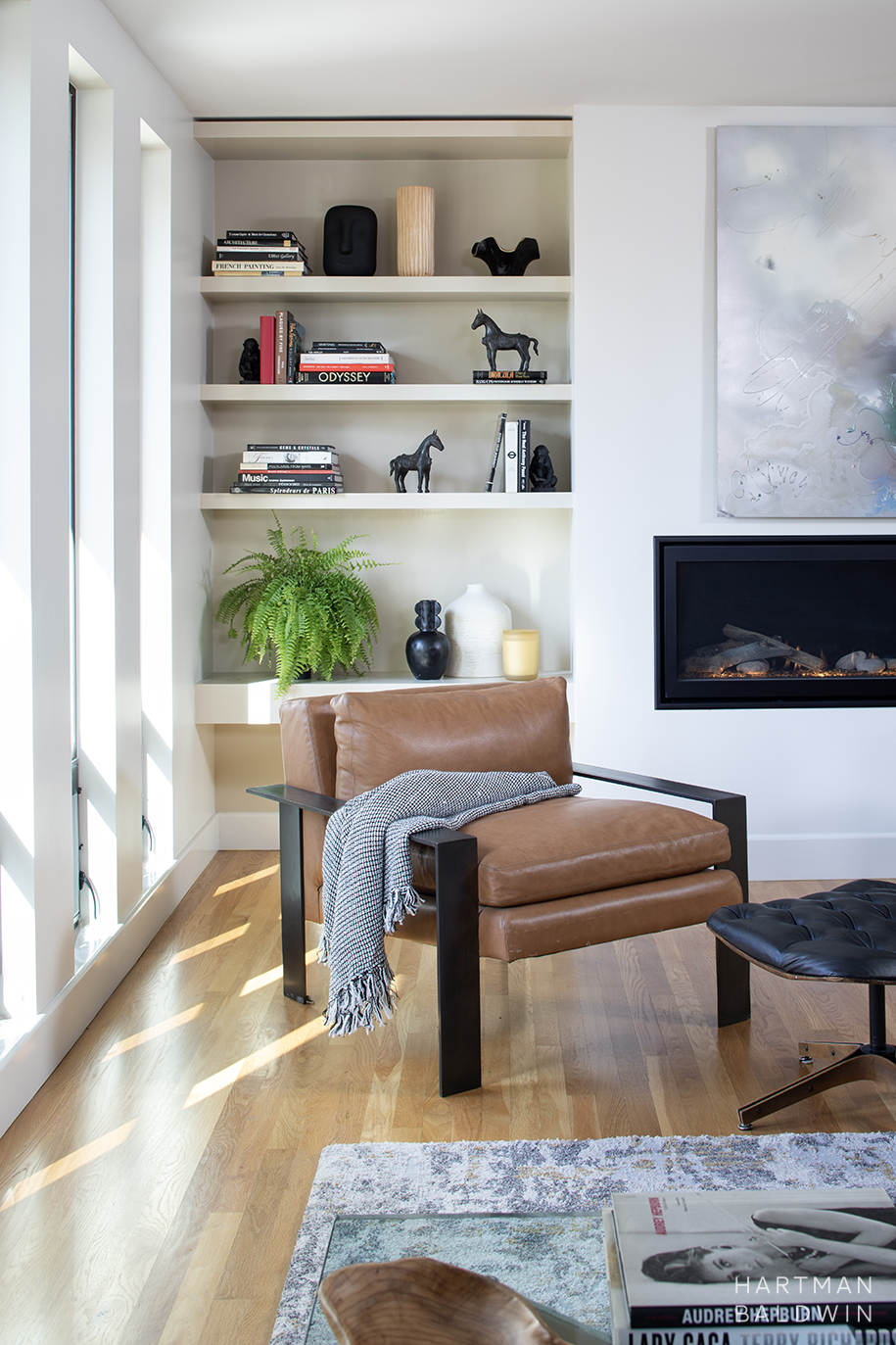 Scope of Project
Whole Home Remodel with Landscape Redesign, and New Lap Pool
Architectural Style
Mid-Century Modern
Size of Home
3,327 Sq. Ft.
The floor plan was typical for the era, as it was tightly compartmentalized with limited views and connection to the outdoors. The kitchen was small and tucked away in the house next to a large living room bordering the den and dining room. The new design plan addressed every aspect of our client's home, one of the more dramatic changes being the kitchen. A few interior walls were removed to improve the flow between the living spaces, the dining room was moved to where the living room used to be, and the new living room incorporated the den for a more spacious room with a visual connection to the kitchen. These changes allowed the new kitchen to become a focal point of the main living area.
The mid-century modern kitchen is completely open to its adjacent spaces and has sleek slab-style oak cabinetry and an impressive bookmatched Olive Ask burl veneer backsplash above the cooktop, protected with glass to prevent heat damage or staining from cooking. The new cabinetry provides ample storage and counter space, and the new vent hood blends seamlessly as it provides ventilation, lighting, and an elegant detail that highlights the backsplash.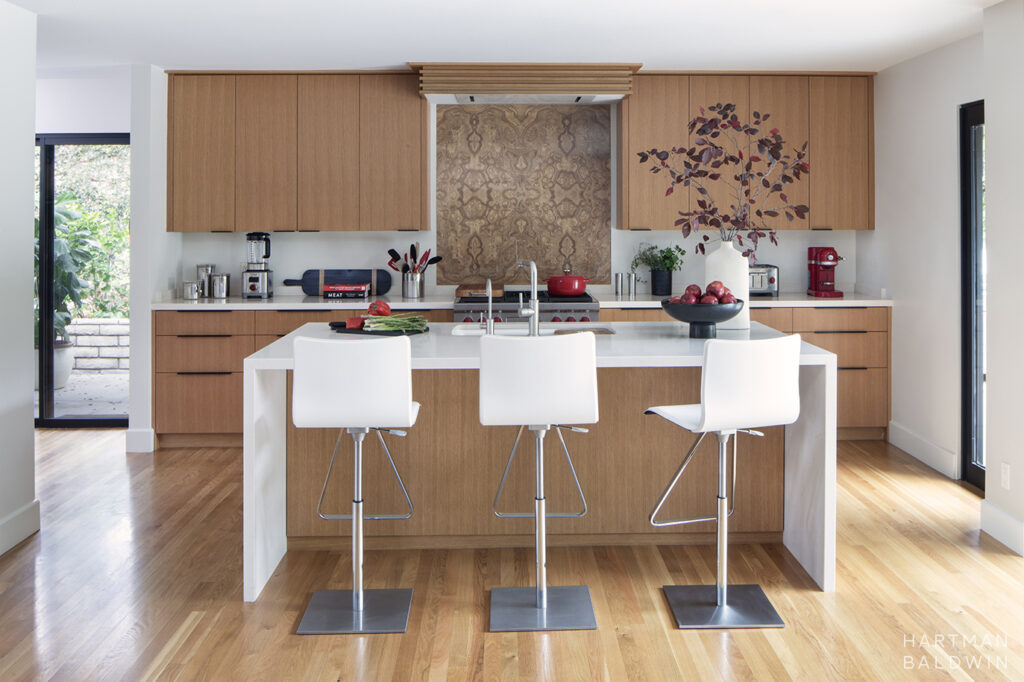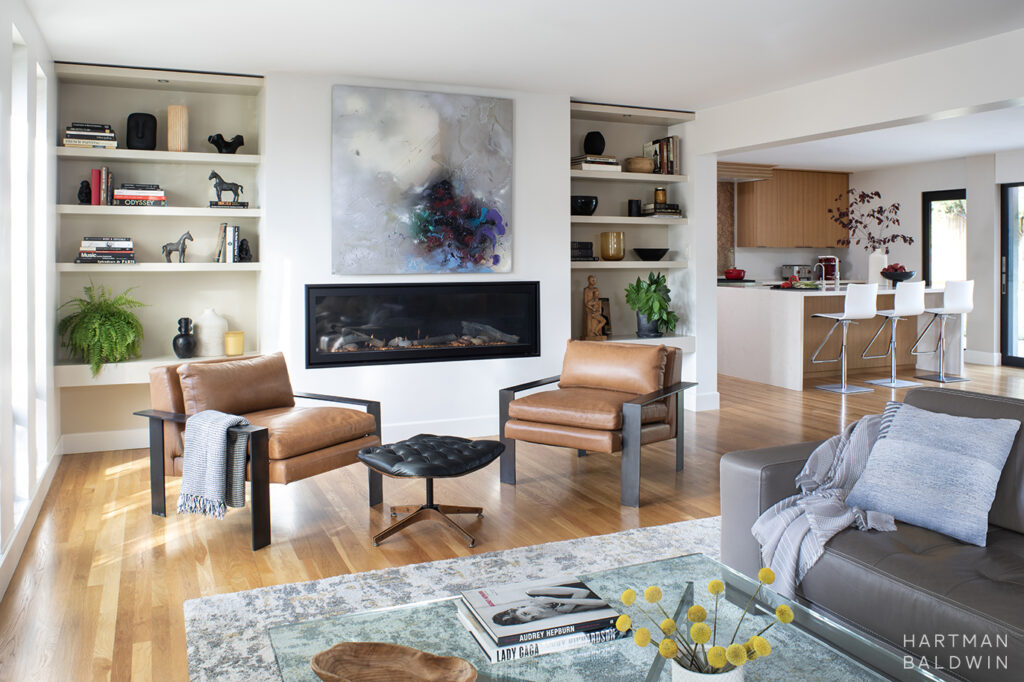 The previous dining room and den spaces were combined to create a larger living room. Along its west wall, a recessed flush-mounted television divides a series of narrow floor-to-ceiling windows that flood the room with natural light and give visual interest to the interior and front façade. The new ventless fireplace is surrounded by built-in shelving to showcase collectibles and books.
The backyard landscaping was redesigned to allow for a larger outdoor living space, the addition of a new exercise lap pool with a motorized swim jet system, new plantings, and lighting. Most of the hardscape was repoured to realign the concrete lines so that the pool area looked more centered than off to the side.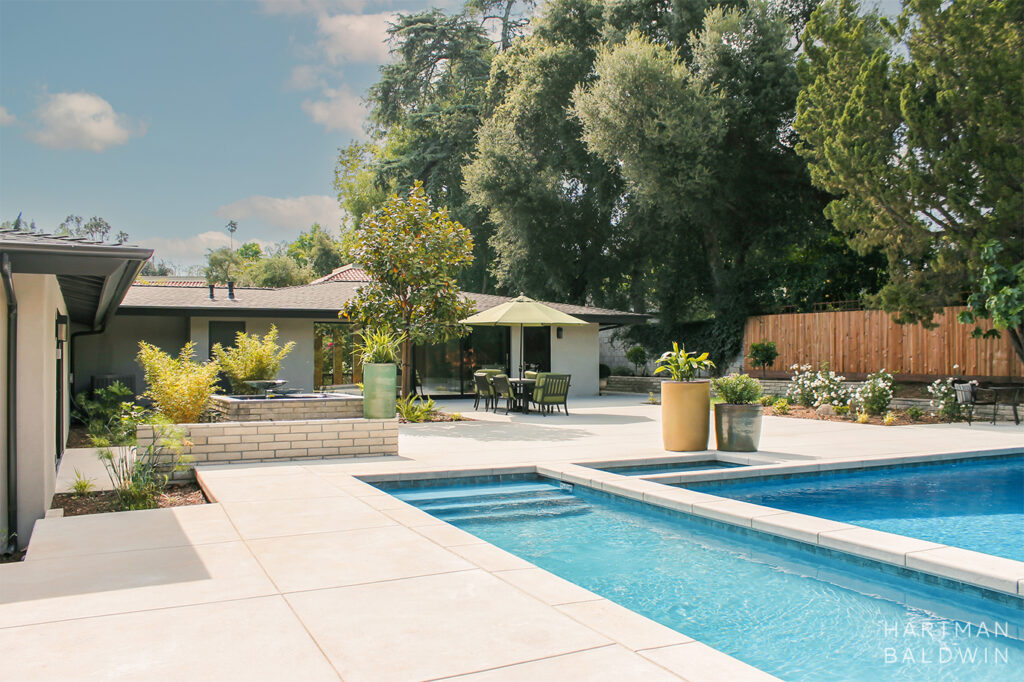 To see more of this transformation with drastic before and after comparisons, take a look at our featured spotlight! For more inspiration, view our portfolio and view the full scope of our services in Southern California.
Ready to discuss your project? Schedule a consultation!